Are you sure you want to sign out?
Delete Message
Are you sure you want to delete?
Title:The Paranormal Site Award
Views: 139
Author
From:
USA
Registered: 07/28/2010
Score: 31
Rank:
If you have your own paranormal related website, apply today to receive your Paranormal Website Award! This award is issued to organizations that have put forth an honest effort in the creation of a website that is well-designed and/or is full of great content.
The image itself links back to a list where your guests can validate your name amongst the actual winners of the award.
Here is the award: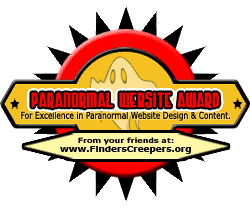 Click the image to see the award page and/or to apply for your very own Paranormal Website Award today!
Date Posted: 12/26/2010 1:09 PM