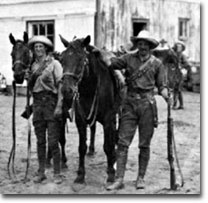 .
FROM PBA;- "BY LOOKS OF THE SIZE OF THE HOLSTER, HE CARRIED A SMALL CANON..
WHY KIND OF RIFLE IS IT FLASH?"
HOLSTER?.......I THINK THAT'S A BAYONET OR KNIFE SHEATH. OR, NWMP ORDERS SPECIFIED BUTCHERS' KNIVES TO BE CARRIED INSIDE BOOT.
Hmmmm almost all contemporary rifles had wooden stocks leading to the muzzle, and a 5-10 rd box mag. RH guy's weapon does not conform.
So, I'll chance my arm and guess the RH guy's weapon is a 1898 Browning shotgun, 5 rd tube mag and half pistol grip as per photo. Excellent trench gun.
cAN WE ASSUME THIS PHOTO WAS TAKEN IN FRANCE?
.
OR could it be a Winchester '87 TRENCH SHOTGUN? Look at your photo, it seems to have a protruding hammer like the Winchester.
Barrels seem to be far too large for rifle calibre, a 12 bore is .714"
Guy on the left is carrying a shoulder slung weapon the butt protrudes beyond his left hip. THIS MIGHT BE THE WINCHESTER NWMP ISSUE CARBINE
"The original weapons of the Force were the .577 Snider-Enfield carbine, Mk. III, and the .450 Adams revolver, first model. The single-shot carbine was satisfactory for the first few years; however, as the Indians soon began to carry repeating rifles, equality of fire-power had to be restored. (GO ASK CUSTER) The police experimented with the Winchester repeating rifle, and finally adopted the .45-.75 Winchester Model 1876 military carbine in 1878."
OK FIRST OF ALL THE SIDEARM.
ADAMS mK 111, CONVERTED PERCUSSION. FIRST OFFICIAL CENTREFIRE REVOLVER ACCEPTED BY BRITISH ARMY.When the North West Mounted Police were being set up (1873/74) Adams revolvers were ordered from the War Department, the request having specified that they should be of the "latest pattern". When the shipment of revolvers finally made it to Manitoba in mid-1874, where the Force had been assembled for its 'Great March West', it was discovered that sold-out-of-service Mark I revolvers had been sent (apparently by a commercial jobber) which had been so poorly packed that many were damaged, forcing armorers to piece together a reduced supply of serviceable weapons. (The late arrival of the revolvers, and the necessary repairs, delayed the departure of the Force for several weeks, and it finally got under way on July 8 1874.)
The War Department agreed to replace these first NWMP revolvers with Mark III revolvers, although they did not arrive until 1875 ... and then only 296 were received out of the shipment of 300, four having been stolen in transit!
Forget .577 Snider that has a top "trapdoor" like the Springfield. WHICH OF COURSE PERFORMED SO BADLY AT LITTLE BIG HORN.
Lee Metford. Could be the one held by the bottom LH man in big group photo.
(
BELOW ISSUE 1876 WINCHESTER
Ok HERE ARE PICS OF THE NWMP ISSUE WINCHESTER .45-75 (GOOD ROUND FOR GRIZZLIES) ON LHPIC, AND THAT MIGHT BE THE OBSCURED WEAPON CARRIED BY LH MAN ABOVE RIGHT.
bUT I DON'T THINK THAT IS THE RIFLE CARRIED BY THE RH MAN, NOR DO I THINK IT'S THE LEE METFORD; NO BOX MAG AND TOP WOODWORK IS DIFFERENT. AS I SAID, BY THICKNESS AND EXPOSED BARREL LENGTH I THINK IT'S AN AUTO SHOTGUN.
The action of the Winchester 1876 rifle was not particularly strong, so the .45-75 was factory loaded with a 350 grain bullet at a MV of 1383 fps and ME of 1485 ft. lbs. This was ballistically inferior to the .45-70-405 and .45-70-500 as a buffalo cartridge, but its lever action rifle allowed much faster repeat shots. Teddy Roosevelt is said to have favored the .45-75 Winchester as a grizzly bear cartridge.
BUT TIME HAD MOVED ON; THIS WAS THE LAST LEVER ACTION WINCHESTER PRODUCED
,
AND ENTER THE HIGH VELOCITY SMOKELESS POWDER LEE METFORD
Lee Metford. Could be the one held by the bottom LH man in big group photo