Before I start Posting these Pictures of a week ago
Saturday
, I should explain to all of you that it seems like our work within the house does seem to stir up the spirits within the walls or wherever they come from..
When repainting Our old room that has now become Our Original Horseroom, plus Tony's Now PC room I am taking pictures to show as New Re-Models within
MySpace
for those who are Friends and Family to share with them as to what WE are doing.. I have caught several Orbs floating around near the ceiling and semi closet that we have in that room...
Wednesday
when I was in my PC room late at night, I had the urge to take a Picture of the Kitchen, mind you it was late at night and it was dang right dark in there.. So I got up and took the Picture.. I found that there in the Kitchen I had close to four Ghostly Orbs that appeared on the wall to the bathroom and one above the dryer... Since it is a straight shot into the Bathroom lol and the curtain to the tub was closed I also found a Ghostly Orb on the Bathmat that we hang over the pole that holds the curtain, just sitting there proud as can be -- if you know what I mean.. lol as if they are all Happy little Ghostly Orbs wanting their pictures taken.. lol
Ok Now for those Ghostly Orbs that I got out in our Yard a Week ago Saturday Night...
Above:
This is from the Back Yard over the damn Berryvines, where I caught this Green Ghostly Orb, plus if you look You may see more of them floating in..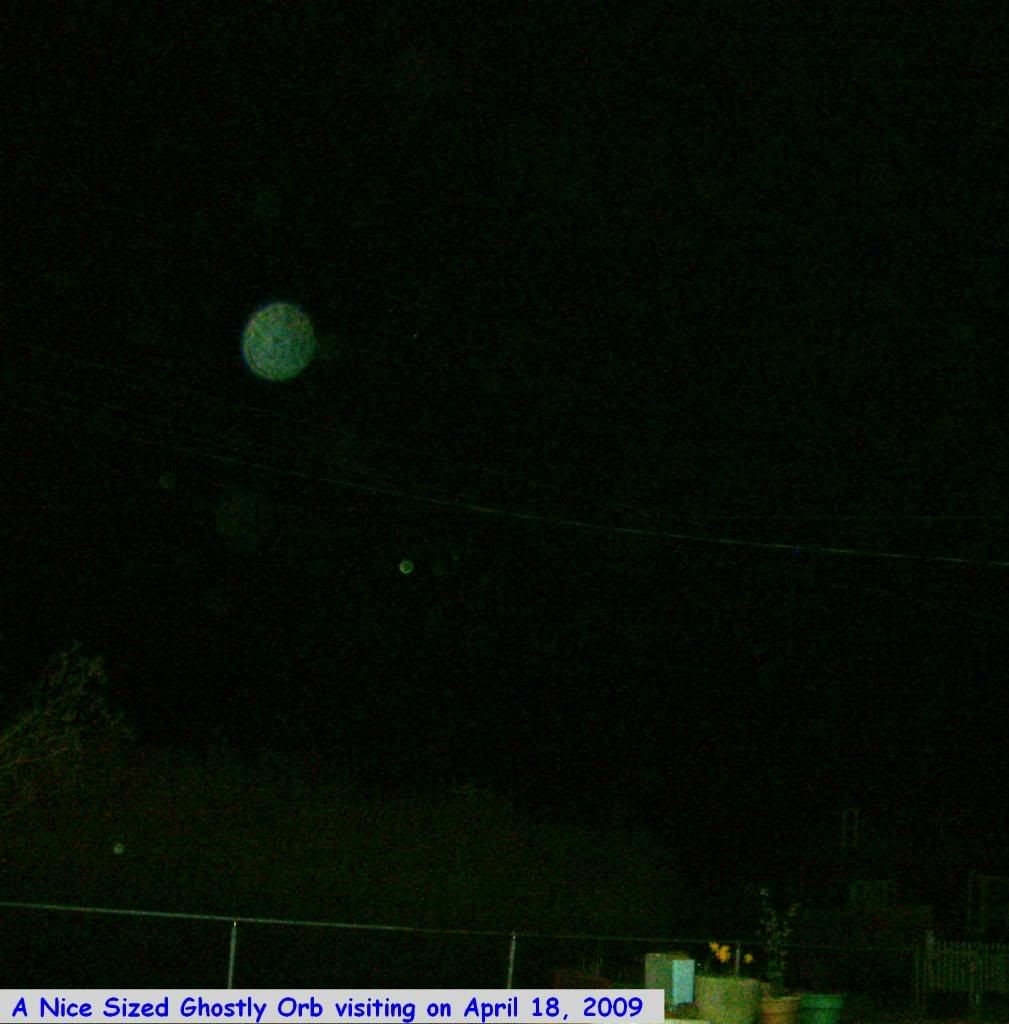 Above:
Here I am Looking towards the Front Yard.. All I did was lighten up the picture here so You could see what I saw on my Camera..

Above: Seems to me they all come in differnet Colors, each of them that do means something.. I never change the colors on my pictures I just lighten them up so You all can see them..


Above: I'll call these the Spring Ghostly Orbs. they did make a great show of themselves floating in around the House.. so you can see also are in the grass and around the area of where I was working pulling out the old 'Hotpokers'..


Above:
For being "
Spring Time
" I would say this Might be one of my Best shots for that night.. Look at the Different colored Ghostly Orbs that came floating in to have their Pictures taken.. How many Colors do You all see in this Awesome Picture??
Next time I'll post the Kitchen Ghostly Orbs, as i don't believe I have it in Photobucket at this time..
But enjoy these until next time-
Owl~