Spirit Of The Wolf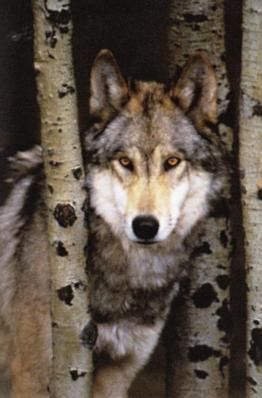 "To hear the sound of the wolf is to experience a singularly moving sensual experience of wilderness. Sound of unreachable quality, seeming weird and inhuman.
But not unearthly.
For it is of the essence of the creature wolf: of his spirit, his being, his truth. A transcendental song that took form uncounted millennia before time was defined. Something elemental.
A living call from the past. A revelation of the very Universe."
*******************************************
"The Wolf sang for the Mountain, who was proud
The Wolf sang for all.
His Song was of Love.
For Earth For Life.
The Truth of his Soul. An endless stream.
Ancient even before the Ice came.
In the time of Dirus, the Great Dire Wolf.
He who has not such Love cannot sing.
And will call Song evil. Unwolfly.
Thus was Rufus. Rufus, the tyrant wolf. The destroyer.
He and his believers took Song away.
And for eons the Sky was empty.
But the stream flowed on. Joining Past and Future
Dirus returned.
His search was long. But sure.
For the Spirit lived, waiting.
Released, its Power surged.
Again the Wolf was free. The Earth whole.
The Wolf sings for the Mountain, who is proud.
The Wolf sings for All.
~~A Legend"

From Prologue of "A Legend of Wolf Song" by George Stone
*******************************
Many say the howl of the wolf is eerie, lonely, terrifying, etc. I find the howl a beautiful song of joy and communication between these animals.
Each howl contains a message -- to a mate or the pack. Sometimes it is, simply, a song of joy and celebration of spirit.
Contrary to many beliefs, the wolf is a friendly, social, loyal and highly intelligent animal. They are very "family oriented" and live within certain rules and rituals.
If you relate strongly to the "Spirit of the Wolf" you are very loyal -- to family, friends, principles and ideals. You will protect your loved ones, especially your children, with strength and conviction.
Like the wolf itself, you do not like to fight unnecessarily -- you will, in fact, go out of your way to avoid that type of situation.
Wolves use body language in communication and many people in tune with this spirit have expressive eyes, hands and posture and use them when communicating with others.
You believe in a strong family structure and realize that your elders and your children all have something to teach you, to share with you. You take the responsibility of teaching your children to respect the rights of others very seriously. You want them to be loving and kind, but strong in life.
You seek knowledge, new ideas and new adventures in your life. You like sharing what you learn and teaching others. As with the wolf, you have a keener sense of smell and hearing than the average person. Strong, unpleasant odors can actually make you sick to your stomach and loud or piercing noise is distracting and can "put you on edge". You love the smell of flowers, rain, etc. and the soft voices of nature -- the sound of a creek running, birds singing.
Spirit Of the Wolf
You can become too involved in your work, your play, your daily obligations, and you should always take time for yourself. You need time alone for inner communication. The Wolf gives you the power to recognize that you control your reality and will help you achieve the harmony and
discipline you need to direct your own life.
**************************
The Spirit of the Wolf is:
POWER
GUARDIANSHIP
LOYALTY
HONOR
INTEGRITY
SPIRIT
****************************************


Wolf Magick
The Magickal attributes of the Wolf: Cunning, escaping hunters, ability to pass by dangers invisibly, outwitting those who wish you harm, fighting when necessary. Sometimes an Astral wolf will lead you to a Spiritual Teacher. Wisdom, hunting and seeking, magick, dreams, intuition, listening, death and rebirth, transformation. Strong protection. Spiritual guidance in dreams and meditation.
***************************************
The mournful cries rise in the night, We are seeking...
Wolves song greets the Moon so bright, We are brave and wise....
Sleek, muscled bodies beneath the Moon, We help turn the wheel of death and rebirth...
By our Magick we send a boon, Of true dreaming...