Rank:Diamond Member


Score: 5631
Posts: 5631
From: USA

Registered: 11/21/2008


| | |
| --- | --- |
| (Date Posted:02/17/2009 06:11 AM) | Share to: |
HEKATE

"Then, earth began to bellow,
trees to dance
And howling dogs in glimmering light advance Ere Hecate came."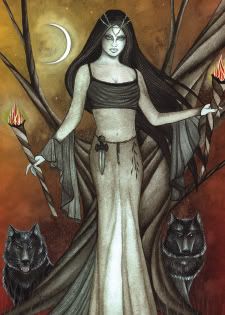 Hekate
Inward, spiraling, seeing, knowing,
counting, measuring, tallying,
understanding.
Sorting, mending, discarding,
treasuring, weaving, synthesizing,
knitting, folding.
Laughing, crying, wailing, tearing,
scratching, burying, mourning.
Gathering, preparing, visioning,
blending, accepting, knowing, being.
Healing, transforming, teaching
Wisdom.
Blessed Be!