Dragon's Egg
Make a rare and fabulous Dragon's Egg

Heed the text of this ancient rhyme all those who would think that it might be easier to steal a dragon's egg from under the warm belly of a gently sleeping dragon.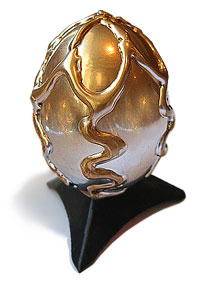 If you should thieve
The dragonroe
Tread quiet and slight
When in her glow
Though stopp'd in
Restful sleep she seems
N'ere wake her
From her golden dreams
For with deadly eye
And hardened scale
Her tooth will be
Your coffin nail

Of course you'll know that although Hagrid kept an immature dragon, he called Norbert (a Norwegian Ridgeback), in his hut for a while after hatching him, dragon breeding was in fact outlawed by the Warlock's Convention of 1709. As a result, eventually, Hagrid was found out and had to give Norbert to Charlie Weasley, who worked with dragons in Romania after he left Hogwarts.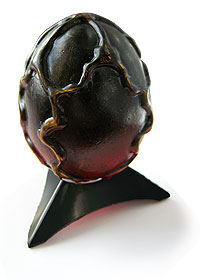 Dragon eggs are classified as Class A, Non-Tradeable Material by the Ministry of Magic. However, despite the ban, lots of dragon eggs still find their way onto the black market. Chinese Fireball egg shells are highly prized as potion ingredients.

Now you don't have to steal a dragon's egg, nor do you have to buy it on the black market, because you can make your very own homemade dragon's egg, using the traditional art of egg blowing, a small amount of glue gun glue and a little bit of paint. It's really easy to get the most amazing effects.

Once you have made your Dragon's Egg, it's likely that you'll also be needing a carefully crafted Egg Stand upon which to display your precious egg. Nothing could be simpler, than the original and authentic Egg Stand is the project you're looking for.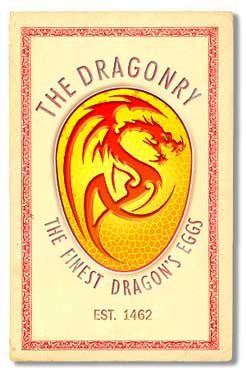 Dragon's Egg
Learn how to blow an egg ready for painting and then decorate it with glue and paint to make the most fabulous Dragons Egg. Make the rich ruddy egg of the European Knucker, the green leathery egg of the fearsome Wyvern, or the iridescent golden egg of the beautiful Chinese Lung.
QUICK REFERENCE
SKILL LEVEL 8yrs +
EQUIPMENT
1 x HEN'S EGG OR OTHER EGG (DUCK OR OSTRICH),

HOT MELT GLUE GUN,

COCKTAIL STICK (OR

DRINKING STRAW)

SCISSORS,

PAINT (DRIES WATERPROOF)
TIME 45mins (inc. glue drying)
1. GENTLY WASH THE EGG IN COLD SOAPY WATER, AND RINSE AND DRY
2. CAREFULLY USING THE TIP OF A SHARP CRAFT KNIFE, ROTATE BACK AND FORTH ON THE SAME SPOT UNTIL YOU MAKE A SMALL HOLE AT ONE END
3. IT CAN TAKE UP TO FIVE MINUTES TO MAKE A NEAT HOLE. DON.T RUSH OR FORCE THE BLADE, BECAUSE THEN YOU WILL CRACK THE EGG. IF A BIT DOES BREAK AWAY, DON.T WORRY, YOU WILL BE COVERING IT WITH GLUE. DO THE SAME AT BOTH ENDS.
4. GENTLY HOLD THE EGG TO YOUR LIPS AND BLOW THE CONTENTS OUT. RINSE THE INSIDE OF THE EGG UNDER A TAP AND BY BLOWING WATER THROUGH IT
5. PUT SOME HOT MELT GLUE ON THE END OF A COCKTAIL STICK AND GLUE THE STICK INTO THE EGG AT ONE END. HOLD STEADY TILL IT IS SET
6. USE THE GLUE GUN TO MAKE MARKINGS ON THE EGG.S SURFACE. TRY THE PATTERN SHOWN, OR MAKE UP ANY PATTERN YOU LIKE
7. i) MAKE LOOPS ROUND THE TOP, ii) JOIN THEM TO THE TOP WITH STRAIGHT LINES, iii) JOIN THEM TO THE BOTTOM WITH WAVY LINES
8. PAINT OR SPRAY THE EGG IN A PERMANENT PAINT
9. TO DISTRESS, PAINT BLACK ACRYLIC PAINT OVER THE EGG
10. WHILE PAINTING WIPE PAINT OFF WITH A DAMP CLOTH, SO THAT THE BLACK PAINT STAYS IN ALL THE CRACKS AND DIPS, SO THAT THE EGG LOOKS OLD
11. TOUCH UP WITH GOLD PAINT OR ANY OTHER COLOURS YOU WANT. WHEN THE EGG IS DRY, CUT OFF THE COCKTAIL STICK WITH PLIERS OR STRONG