Using the Photobucket Icon from the Message Toolbar to Insert an Image from your Photobucket Account.
1) Click New Topic if creating a new thread, or click on Reply at the top or bottom of an existing thread. Do not use Quick Reply or you won't get the Message Toolbar.
2) Click on the Photobucket icon.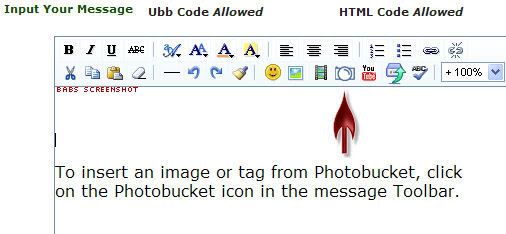 3) The first time you use it, you will need to sign into your Photobucket account.
If you have more than one Photobucket account, after clicking on the Photobucket icon in the message toolbar, you can click on Log Out if you are already signed in. Log in with the account you want to access.
4) Click on the drop down arrow adjacent to
Album
and select the Album you require.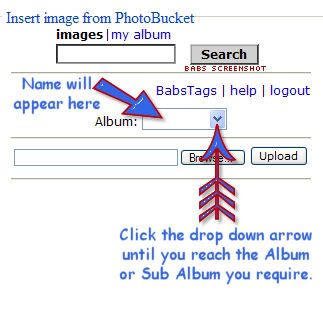 5) If you have more than one Album or Sub Albums, click the drop down arrow enough times until you reach the required Album.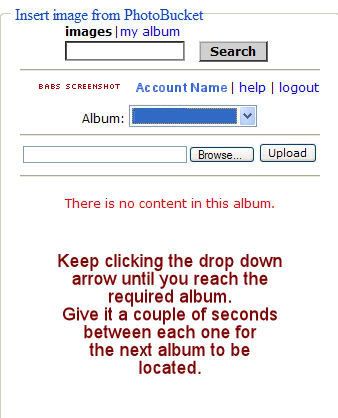 Between each selection, the screen will flicker so wait until that happens before clicking the arrow again. It takes a couple of seconds for it to register.
6) Once you reach an album with images in it, the message "There is no content in this album" will disappear and you will see the first of the thumbnails in that particular album.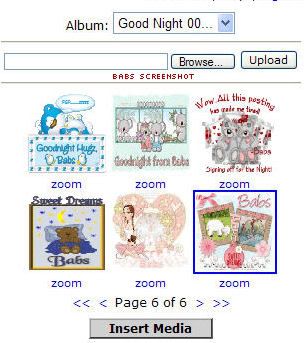 This is where it helps to know your images as they are not as clear as they are when viewing them directly in your Photobucket Album, although you can click on Zoom to get a closer look.
7) Use the single arrow to move forward > or backwards < to the next/previous six images or the double arrows to move to the very end >> and vice versa <<.
8) Click once on the thumbnail of the image you wish to insert into your message. A blue border will appear around it, as in the screenshot above, then click on Insert Media.
If for some reason Insert Media does not work, click on Zoom below the thumbnail. This will open/enlarge the image then you can right click on it, then left click on
Copy
. In your message,
Control v
to paste it.
If you have not yet uploaded your image to Photobucket, you can do that without the need to go to your Photobucket site separately.
Using the drop down arrow as above, locate the album in which you wish to place your image. Click on Browse. Locate the image on your computer, double click on it, then click on Upload. You may proceed from there.
If, when viewing your thumbnails, you get lost or confused, easy to do if you have a lot of albums and/or lots of images in one album, you can click on
View Album
to view your images. Click on the required thumbnail and copy and paste as above.
This is still a neat way of accessing your Album as Aimoo will open it in a separate window.